Our products are handmade with quality materials
With bold patterns, high-quality materials and captivating story-lines of cultures around the globe, each Sapana handicraft is meant to be worn and adored.
Dhurrie collection
The traditional handicraft of looming dhurries has been practiced for hundreds of years. It's a skill that is passed on to younger generations from father to son, from mother to daughter.

We work with makers in a small village just outside of Jaipur, India. Horizontal looms are set up outside the artisans' homes allowing them to work close to their families without having to migrate into urban areas to seek employment.

A large portion of our collection is drawn from patterns you can find in India. We are starting to design our own rugs now, too. The Sapana Original Collection tends to sell fast. If you see it and love it - grab it quick!

Our tailor and their team then work to make what would be a floor covering into your clutch, crossbody or tote.
Sari Collection
Choosing to work with handcrafted or repurposed textiles only is a creative challenge. And one that I enjoy.

Vintage Sari fabrics are truly a connection to the vibrant culture of India. Traveling to India is a visual treat. Color is everywhere - in spices, flowers, architecture, and of course clothing.

Our dumpling bags are made from silk and silk blend sari fabrics that could have become waste.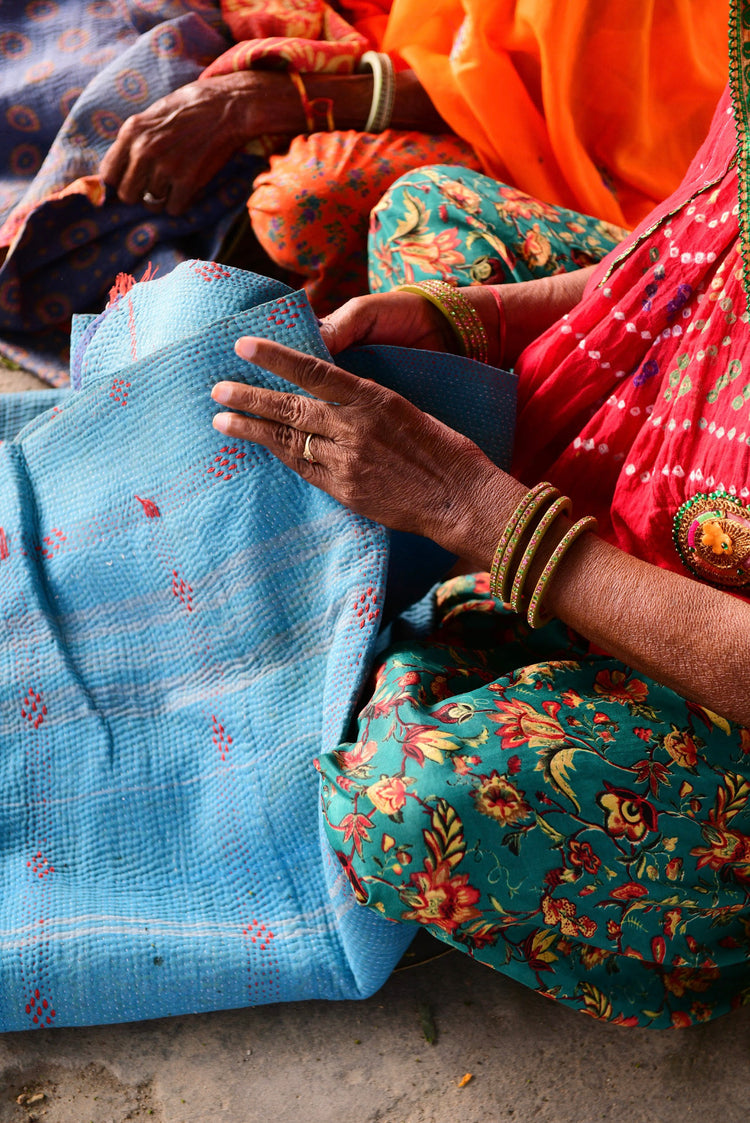 Kantha Collection
Kantha, from the Sanskrit word meaning rag. Saris or fabrics are layered and bound with a running stitch we call a kantha stitch. The practice began in Bangladesh and India.

Utilitarian pieces made to be bedding, covers for books or valuables, floor covers, etc. Industrious women making necessary pieces from discarded fabrics. But there's an emotional aspect to the quilts too. Made as from a labor of love and often presented as a gift - kanthas embody the love that was put into making them.

I'm drawn to truly older pieces. And I'm especially drawn to pieces with embroidery, patches, or quirky details.

Kanthas are the pieces we use for our blanket coat collection.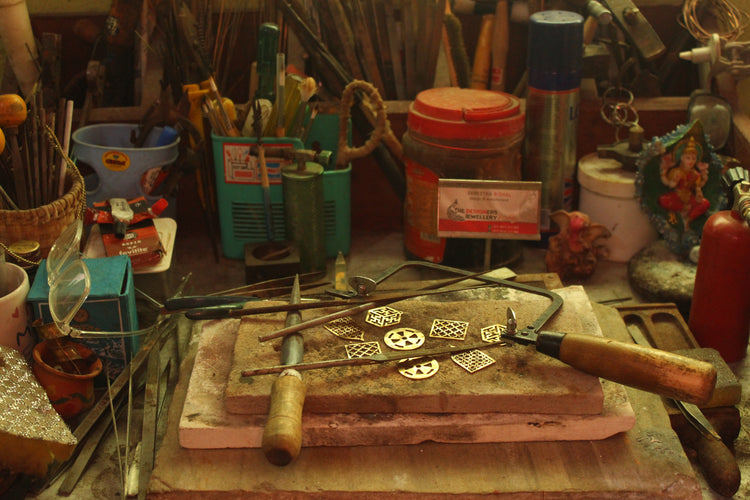 Brass Collection
We work with two brass makers. One in Nepal and another in India.

Bishal is our jeweler in Kathmandu, Nepal. He's self taught. He studied to enter the hospitality industry - but, he dreamed of something more creative. We are happy to support his passion and look forward to growing his business. Currently, he makes all of our jewelry.

Rizwan is in Udaipur, India. He is a new maker to the SAPANA family. You can find his collection in our Round Top showroom. We plan to grow a line of home goods with his work this year.